About IMVS accounts
What is an IMVS account?
An IMVS account is set up (by IMVO) for each end-user (pharmacies, hospitals and wholesalers) who has registered with us, so that they can connect their FMD system to the IMVS.
Who manages the IMVS account?
End-users manage their own IMVS account. It is managed by their organisations super user.
What is this account used for?
This account is used for the initial set up of an end-user, and after that it is used for the following:
Adding locations
Deleting locations
Generating client credentials (client ID & client secret)
Adding equipment
Deleting equipment
Updating location name and address details if required
Do IMVO have access to these accounts?
IMVO don't have access to individual end-user accounts. We can talk you through performing tasks 1 – 6 above, once you are logged in.
---
Accessing your account in the IMVS
To access your account in the IMVS follow steps 1 – 5 below:
Log into the NMVS portal (this link can be saved to your favourites bar for future reference).
Type your username into the 'User Name' field (the username is the super user email address for your organisation).
Type your password into the 'Password' field then click the 'Sign In' button.
You will be prompted to enter your 'Authorisation Code' (this 6-digit number will be sent to your super user email address and will be valid for 5 minutes). A new code is sent each time you log in to your account.
Type the 6-digit number into the 'Authorisation Code' field, then click 'Continue'.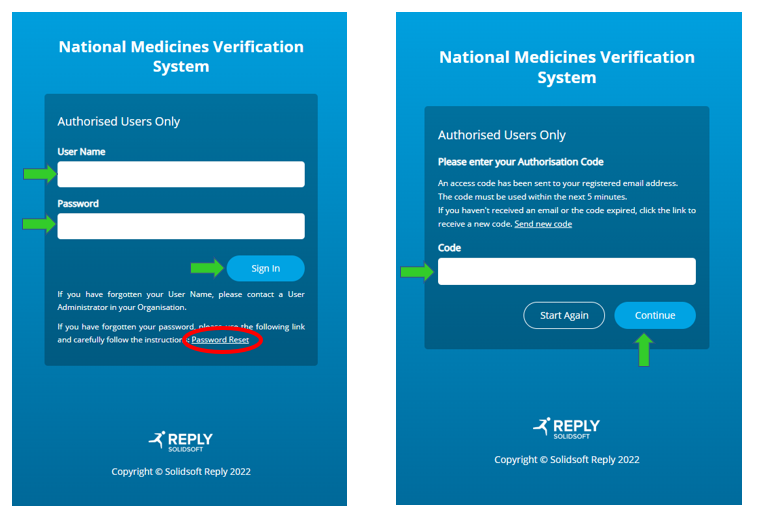 Resetting your password
If you cannot remember your password follow steps 1 – 5 below:
Passwords expire every 45 days, if you need to reset your password click the 'Password Reset' link (circled in red in the image above).
If you cannot see the password reset link email from notification@nmvo.eu in your inbox, check your junk/spam folder to see if the reset link email is there.
If the password reset link email went into your junk/spam folder, it will need to be moved to your inbox or marked as 'not junk' before the links contained in the email will work.
Follow the instructions in that email to reset your password.
Once you have successfully reset your password you can log into your account using the first set of steps (1 – 5) above.
If you have any difficulties accessing your account, please contact us.